JDX Gift with Purchase Terms & Conditions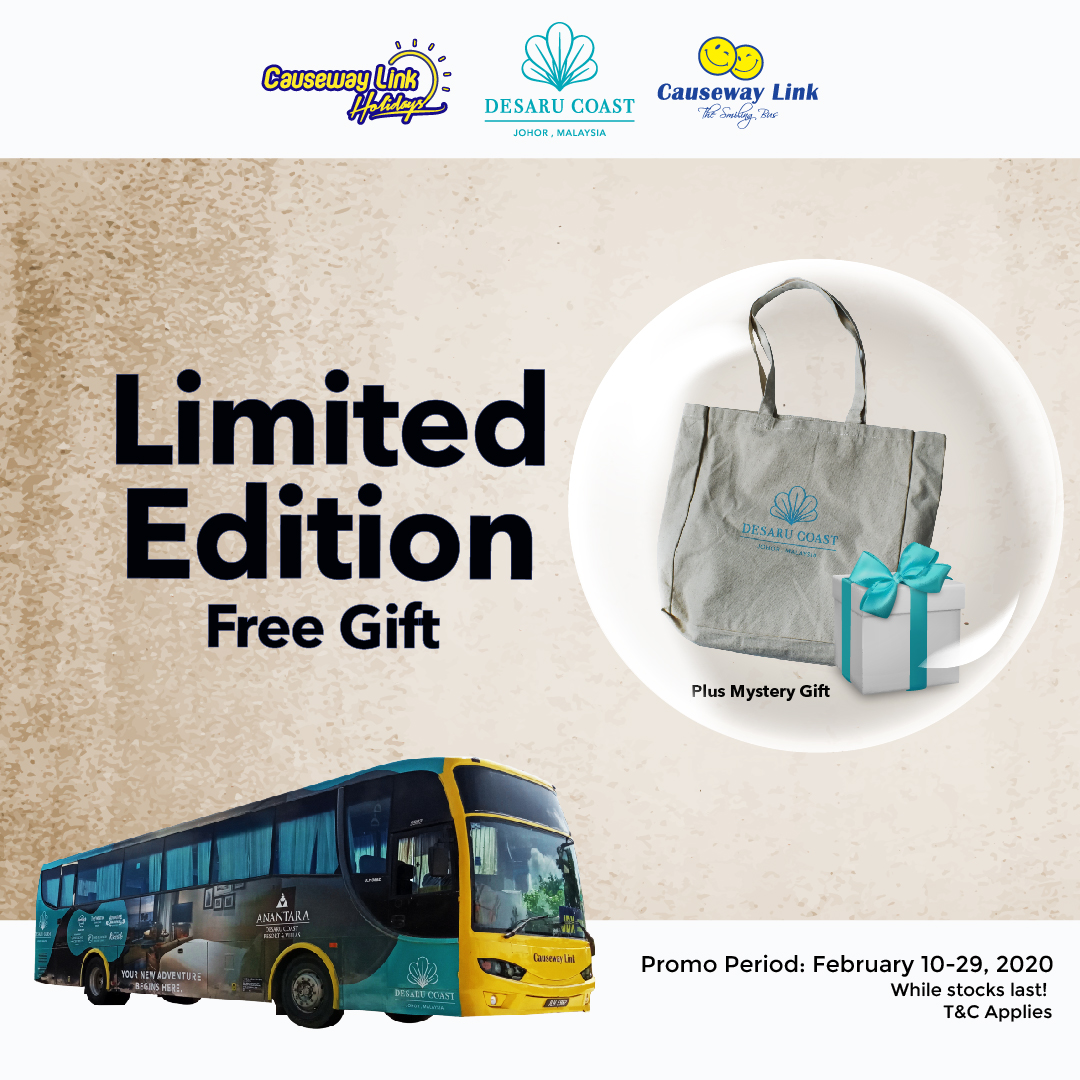 Participants must abide with the privacy rules and regulations of Causeway Link and Causeway Link Holidays Facebook and website.
Mystery gift to be given away will be based on the first 20 successful booking transactions.
Entries/ comments using advertising or offensive words/ contents, or any that violate the regulations of this campaign are STRICLY NOT allowed. The organizer will disqualify entries if any of the contents/ entries deemed to be inappropriate.
This campaign is open to all Malaysians and non-Malaysian.
The Day Trip to Desaru Coast bundle package under this campaign can be booked anytime at the Causeway Link Holidays website only from 10th February to 31st April 2020.
Successful transaction qualified for this mystery gift will be contacted by the customer service of Causeway Link Holidays for redemption arrangement.
The redemption of the of the mystery gift must be at the Causeway Link Counter JB Sentral only from 10th February to 1st March 2020. Any late redemption will be disqualified.
Mystery Gift cannot be exchanged for monetary value.
One winner per bundle booking transaction will be applied for this campaign.
Selected winners grant the Organizer the right to use and publish their photo(s) in print, and in any other platform in connection with the "JDX Gift with Purchase" Campaign.
Selected winners allow the Organizer the right to display, retain and modify all photos submitted to the Organizer in connection with the "JDX Gift with Purchase" Campaign.
This Social Media campaign is published in both Facebook and Instagram of the Organizer.
This campaign follows the rules and regulations of Desaru Development Holdings One Sdn Bhd and Causeway Link Holidays Management.
Causeway Link Holidays management reserves the right to change any of the terms and conditions of this event as and when necessary.
Purchase now and get free gift: http://bit.ly/320tXFF